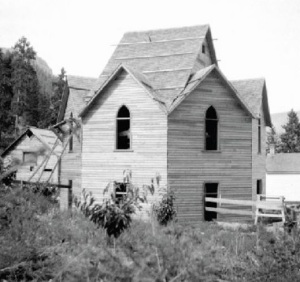 The unique 8-sided Peachland Baptist Church was constructed, mainly by volunteers, in 1910 and served as a place of worship until 1964.  Over the years it has functioned as a temporary Municipal Hall, Parks and Recreation Office, Fire Brigade Hall and Public Library.
The picture on the left shows it under construction. Note the peach tree growing in the foreground. Since 1980 the building has housed the Peachland Museum and since 1981, the church building was declared an official British Columbia Heritage site.
Hundreds of historical artifacts, photographs, newspapers and documents are on display.  Together, they offer a glimpse into the rich history of Peachland and its people.
The personal histories of pioneer Peachland families are documented in three volumes:  Peachland Memories 1 & 2 and the 2009 Centennial Picture Book. The books are available for purchase at the Museum.
The upper floor of the Museum houses a scale model of the Kettle Valley Railway, as it existed between 1955 and 1965, built and maintained by  the Central Okanagan Railway Company.